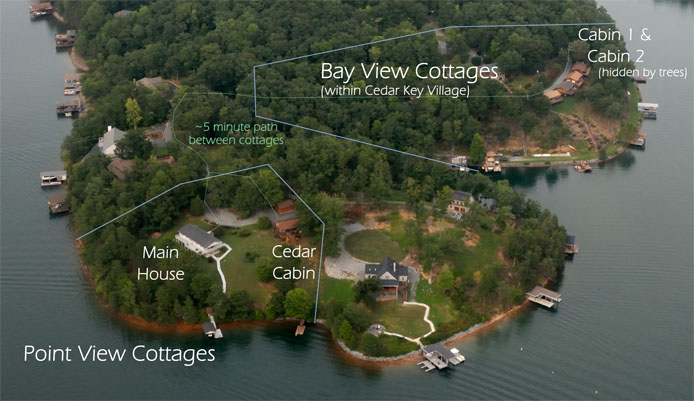 Silver Bay View Cottages are located in a quiet section of Smith Mountain Lake with superb wide-water lake and mountain views. The four properties are in two locations that are only a few minutes walk apart. The properties at Silver Bay View Cottages offer ideal settings for a romantic getaway for two, a family holiday or a large family reunion.
The cottages are located in the northeast corner of Smith Mountain Lake, near the dam. See our location in the Maps and Directions section of the Plan your Visit page.
Point View Cottages
The Point offers grand and spectacular views of the lake and Smith Mountain in a quiet, private setting populated with beautiful Loblolly pines and sweeping lawns. Two private deep-water docks offer easy access for boating, swimming and sunbathing. The point marks the entry to Witcher Creek, one of the best fishing areas on the lake. The houses on the Point offer a combined capacity of up to 16 people, making it the ideal location for family reunions. With the Bay View cabins a 5 minute walk away, 8 more people can be added to the party.
The Main House is a large, modern home with 4 bedrooms and 3 full baths that can comfortably accommodate 10 people. Two large public rooms and a large deck are designed for entertaining, making it the ideal gathering place for up to 24 people staying in the Silver Bay View vacation rental properties. If your party exceeds 24, please call and we can make arrangements with other nearby rental properties.
The Cedar Cabin, located about 100 feet from the Main House, is a generous 3 bedroom, 1 bath home that can comfortably sleep 6 people. A large, open-beamed public room is complemented with a deck that looks over the lawn that sweeps down to the water's edge and the views beyond.
Bay View Cottages
Two neighboring cottages in a row of ten that rim the shore of a secluded cove on Smith Mountain Lake, the Bay View Cabins are on the end, making them the most private of all. There are wilderness views of undeveloped forest and the lake, as well as Smith Mountain. The Bay View vacation rental cabins are located on Witcher Creek, which is a no wake area. This feature makes swimming very safe, and a sense of peacefulness prevails that you will not find in other areas of the lake that experience more boat traffic.
A private deep-water dock is shared by the two cabins, offering easy access for boating, swimming and sunbathing. Both cabins are two-bedroom, one-bath lakefront homes, with solid cedar construction, open-beam ceilings and hardwood floors.
While Cabin 1 and Cabin 2 are identical in construction, they offer different interior decor, features and views. Please check out their individual web pages to choose the one that best fits your personal preferences.