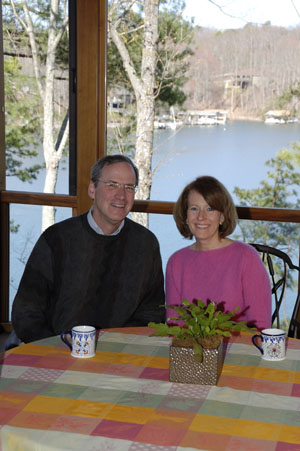 The Story of Silver Bay View Cottages
Jim and Catriona Erler, the owners of Silver Bay View Cottages, first discovered Smith Mountain Lake in 1987, a few years after they moved to Northern Virginia from San Diego with their infant children. Craving the long open views they grew up with in the Sierra Nevada mountains, Jim and Catriona knew they had found the ideal spot for their young family to build vacation memories.
The Erlers purchased Cabin 1 in 1993 and began offering it as a rental a few years later. As the rental business grew, they purchased Cabin 2 and soon learned that there was a desparate need for accomdations large enough for reunions. When the Main House and Cedar Cabin became available in 2002, they purchased them and began major rennovations to prepare them for large reunions. Since 2003 Silver Bay has been a first choice on Smith Mountain Lake for reunions.
With the lake becoming a year-round destination there was a growing demand for hot tubs. So, in the spring of 2012 the Erlers undertook a major rennovation project where hot tubs were added to the Main House and Cedar Cabin, and all the properties were updated with new HDTVs and furnishings.
Today, Jim and Catriona divide their time between their lake home next to Silver Bay, and their home in Charlottesville. While Jim manages the properties, he is assisted by Tina & Brian Vandergraft who own and operate Maid4You housekeeping services.
About the Owners
Jim Erler
Jim is an entrepreneur with a wide range of technical, artistic and business interests. When not managing Silver Bay, he is a mentor for technologists at the University of Virginia and at the Darden School of Business who aspire to start their own companies. He also consults for growing technology companies. Having a technical background in physics, chemistry and engineering, and having founded a semiconductor company, Jim offers a unique combination of technical and business expertise.
Jim's artistic interests inspired him to design Loblolly House, a reproduction of a famous 1908 Arts & Crafts home in Pasadena, California. Loblolly generated the interest of architects and academics who encouraged Jim to offer design services to others, which he now does. Loblolly House is next door to the Main House at Silver Bay and was featured in the Smith Mountain Lake Home Tour in October of 2011. It has also been featured in local and national magazines. If available, Jim is happy to offer private tours of the house. See www.ErlerDesign.com to see a video about the house.
Catriona Tudor Erler
Catriona is a garden author/photographer/speaker who has written 9 books and countless articles for national and international publications. Her books are available at Amazon.com, major booksellers and home improvement stores. You can also see her regular articles in the Smith Mountain Laker Magazine which is free at local businesses. Check out her web site, www.CatrionaTudorErler.com for more information