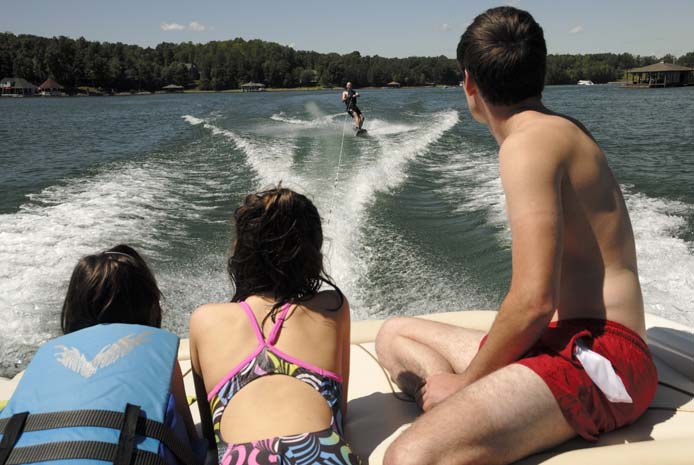 Choosing the best property for your family
Families of two to four people have lots of choices! Cabins 1 and 2 are ideal for families of four or fewer. However, some families prefer the Cedar Cabin or the Main House for the hot tubs, fully equipped kitchens, laundry facilities, larger rooms and private docks. We suggest that you review the pages on each property, check the availability calendar and choose the one that you like best!
Plan ahead to have a great vacation
If you have never been to Smith Mountain Lake before, you will have a better vacation if you plan your visit around the ages and interest of all the members of your family. When you call us, we will ask you about your family and help you figure out the best activities to consider. The Activities page lists all kinds of activities, but we thought it might be helpful to list a few of the activities that we recommend for different age groups.
Families with young children
As parents of twin boys, we first visited the lake when they were only 3 years old. We wish we knew then what we know now! For the best and safest boating experience, we recommend pontoon boats. Their flat deck and "fence" around the boat make it the safest option as well as the most comfortable. To allow young children to safely enter the water, we recommend visiting the sandy beach at the State Park. Be sure and bring the classic pail and shovel, as well as a shade umbrella if you plan to be out for long. It is about 15 minutes away and also includes a playground area.
Families with children over ~age 7
There is nothing that can beat the joy of tubing! Either bring your own tube, or rent one from Mitchell's Marina. When not being pulled behind a boat, tubes make great water toys when swimming off of the dock.
Don't forget fishing! There are lots of pan fish under the docks that can easily be caught with a No. 16 hook and a worm. Consider having your children dig worms out of your garden at home as a way to prepare them for the vacation. Children naturally love to connect with nature by exploring the shoreline.
All ages will enjoy hiking at the State Park or at the Peaks of Otter in the Blue Ridge. However, a change in pace can be nice after a little too much sun. Consider a visit to Bridgewater Plaza with its arcade games and ice cream parlor.
Families with pre-teens, teens and older children
Water sports, such as skiing and wakeboarding, are loved by youngsters and adults alike. Many of our guests enjoy physical challenges of hiking to the top of Sharp Top at the Peaks of Otter to see the 360 degree views of the spine of the Blue Ridge, the Roanoke valley and Smith Mountain Lake in the distance. The visitor center at the Smith Mountain Lake Dam offers a fascinating look at how energy is stored in this unique two-lake system.